2023 / Aug / 23
5 Things to Know about Planning Permission in France
(Image source: pixabay.com)
For overseas buyers purchasing a house in the beautiful and charming South of France, commissioning a property survey is a vital step in ensuring everything runs smoothly and that you end up with a property that will bring you joy and pleasure – not.
Purchasing a property in France, whether for personal use or as a buy-to-let investment, is a dream come true for many. However, if your intentions involve substantial renovations, rebuilds, or significant alterations to the property you've got your eye on, you need to understand the challenges and nuances of French planning regulations and obtain planning permission to turn your dreams into reality.
In this blog post, we'll delve into five essential aspects of theFrench planning permission process to help you navigate it smoothly and make informed decisions.
1.     You Will Nearly Always Need Planning Permission
The first thing to realise is that planning permission – or autorisation de construire – is a legal requirement for most construction projects in France. You will need to obtain consent from the local planning authority for any brand new construction on your land or property, as well as for any plans you have that would increase the external surface area of the building or create new surface levels. Finally, you will also need to obtain planning consent for a change of use for an existing property.
2.     There Are Different Types of French Planning Permission
Next, you need to understand that there are different types of planning permission in France.
Depending on the scope of your project, you'll need to submit either a planning application (demande de déclaration préalable) for minor works, or a works declaration (demande permis de construire) for larger projects to the appropriate authorities in the area.
The table below outlines under which circumstances you will need to submit each type of planning application.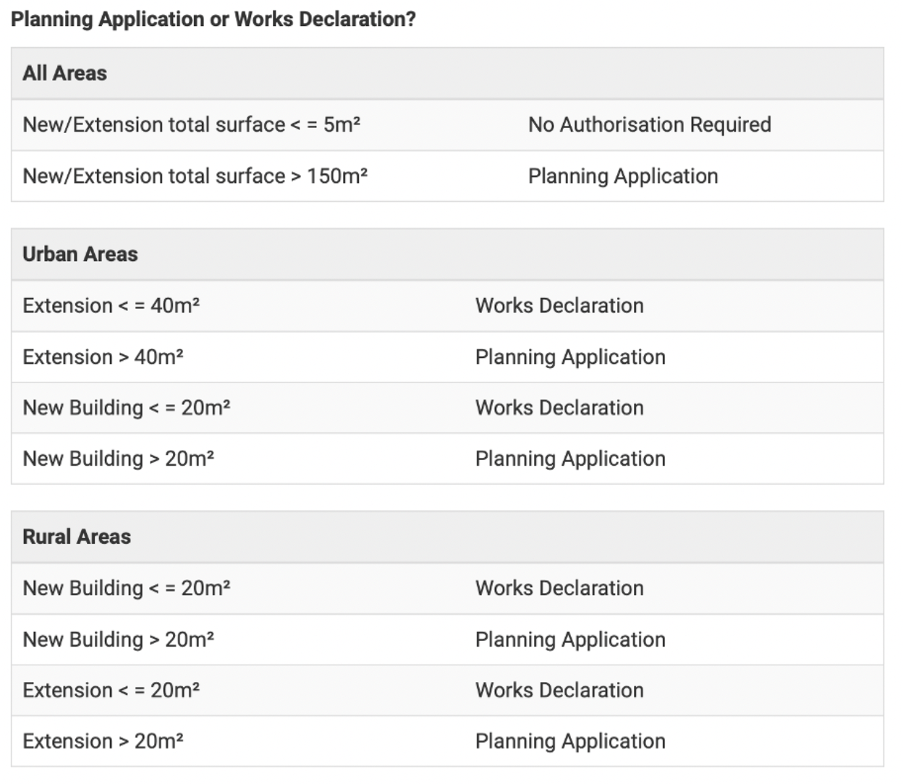 (Image source: french-property.com)
3.     Small Renovations May Be Exempt
Of course, you may only intend to carry out minor renovations to the existing building – and in some cases you may not need to obtain planning permission to execute these works.
Small renovations in a building under 2m² usually do not require planning permission and you will likely not have to declare your plans at all. However, larger renovations necessitate a déclaration préalable, while major projects exceeding 20m² mandate a permis de construire.
It may not always be entirely clear exactly which type of planning permission you will need. As such, you should always seek a trusted local advisor to help you navigate the process and ensure you do not break any laws.
4.     Local Regulations
The next thing to remember is that regulations in certain areas will differ from locality to locality. Precisely what the regulations are in the jurisdiction where your property is located will be outlined in the plan local d'urbanisme (PLU), which will dictate what is permissible. The local planning authority, such as the local town hall, is your go-to source for understanding these regulations.
Engaging with local authorities, seeking their guidance, and maintaining open communication throughout the planning process is essential and will help prevent potential roadblocks.
5.     Conservation Areas and Legal Obligations
Properties within conservation areas or near historical monuments are subject to stringent regulations. Obtaining planning permission in such areas requires adherence to strict guidelines – however, in reality, the chances of being granted permission to build or significantly alter any buildings in such places are extremely slim.
Perhaps more importantly for your project, no matter where you intend to build, obtaining the necessary permits involves submitting detailed plans and adhering to legal obligations. Non-compliance with planning laws can result in legal action, hefty fines of up to €300,000, and even prison time in extreme cases – so always make sure you follow the law to the letter.
Charles Mackintosh – South of France Property Surveyor
Navigating the French planning system can be complex, especially for non-French speakers. Consulting a professional, like a trusted property surveyor with expertise in planning permission, can simplify the process and ensure compliance.
Charles Mackintosh is the man you're looking for. With over 30 years' experience living and operating in the region, Charles specialises in providing highly regarded English language property surveys and advice to overseas buyers.
For more information, get in touch today.